• Tartan Plus Tweed • Highland Dress • Kilt Hire • Scottish Traditions • scottish wedding • Shop Local • Tartan • Wedding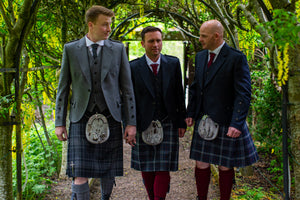 Wedding Season is Here! We don't know about you, but we feel like the year is flying by. It feels like it was Mother's Day just yesterday, and yet it's May already, and wedding season is in full swing. May through August promise to be our busiest months in the shop. We love it though and get so much joy out of helping you all get kitted out for your big day and listening to your plans. What's not to love. With that said, we know that it can be a bit of a daunting task planning your groom and...
---
• Tartan Plus Tweed • Events • Tartan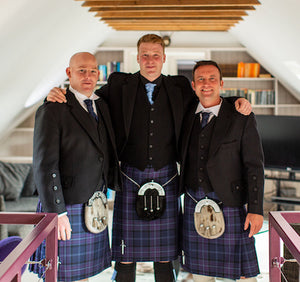 Are you interested in hiring a kilt for your upcoming event? But maybe you don't know where to start? Maybe you're worried about wearing a kilt because you've never tried one on before? If you can relate to any of these questions don't worry! At Tartan Plus Tweed we really pride ourselves on making the customer comfortable and listening to your wants and needs throughout your entire fitting.
---
• Tartan Plus Tweed • Tartan
For generations, tartan has been symbolic of Scotland. There are thousands of clan tartans, district tartans, royal tartans, modern tartans, and so on. These have all developed through years of tradition, years of fashion, and years of commercialisation. Tartans can be designed for events, like the 2014 Commonwealth Games and the 2014 Ryder Cup. Tartans are also designed for those that have emigrated across the world but still identify themselves as Scottish, like the Patriot Tartan. Tartans have also been designed for the military, for Royals, and each state and territory within the United States and Canada, and for many more reasons. But how, out of all these tartans, do we pick one? And how does one triumph over another?
---
• Tartan Plus Tweed • Events • Fashion • Tartan
When you decide to hire kilts for your wedding day, you might be very excited to begin searching for the perfect outfits for your groomsmen to wear. OR you may be quite overwhelmed by the amount of choice there is! From tartans to jackets, and then accessories, there really is a never-ending combination of items to create and find your perfect outfit. If you are feeling a bit overwhelmed, our friendly sales team is right on hand to help you along the way.
---
• Tartan Plus Tweed • Fashion • Tartan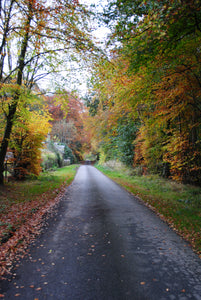 Out with the bright summery colours and in with the warm subdued hues of autumn. Here is a list of our favourite autumnal tartans this season.