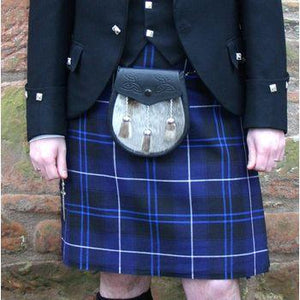 Men's 8 Yard Medium Weight Wool Kilt
Regular price
$538.58
$0.00
Unit price
per
A traditional 8 yard medium weight wool kilt for men. This kilt that is fully hand stitched in the Scottish Borders and made from 8 yards of medium weight tartan fabric of your choice. We have a large range of tartans available, but if you do not see the tartan you are after, please contact our experienced sales team at 01896 208 007, as they may be able to cater to your needs.This 8 yard medium weight wool kilt has the following features.
3 leather kilt belts

2 belt loops on the back of the kilt that have been cut and sewn to match the pattern of the kilt

The apron is double fringed

The kilt is lined with a 100% cotton lining for comfort when wearing

Included with your purchase is tartan flashes to match complete with garters

This is a traditional kilt that will last you a lifetime
NOTE: Our 8 yard medium weight wool kilt will be sent to you with tacking stitches along the bottom of the pleats to keep the shape of the pleats whilst in transit. These are easily removable.
Lead Time & Delivery
Lead time is 3-5 weeks for our hand-stitched casual wool kilts. This lead time is based on ordering fabric, cutting the cloth, hand stitching to your precise measurements, pressing of the kilt, and of course delivery time. We keep up to date with stock levels at the various tartan mills, and they do their best to keep all tartans in stock. However, if the tartan you have selected is temporarily out of stock we will update you accordingly.
If you would like to check your tartan is in stock please call our sales team on 01896 208 007.
Returns
We are unable to offer an exchange or refund on made to measure items, as it is unlikely that we will be able to resell your made to measure kilt in the tartan that you have chosen.
For this reason, it is HIGHLY recommended that when measuring yourself, you adhere to the guide below, and remeasure yourself to ensure accuracy. If possible get measured by a seamstress or tailor.
Measuring Guide
For many, the thought of self-measuring for Highland dress may seem quite daunting, but by following a few basic instructions this need not cause concern.

We have measuring guides for kilts, jackets and trousers/trews - just follow the link below.
There are two golden rules.
DO NOT attempt to do this alone. It is essential that you get someone else to do the measuring as it is quite impossible to do this yourself with any degree of accuracy.

Use a proper tailor's measuring tape. This may sound obvious but you'd be amazed at the number of folks who try to make do with a 6-inch ruler and a piece of string!
It never works
Finally, if you need any advice, or are not sure of something, don't hesitate to contact our sales team at 01896 208 007.
---
Share this Product
---